10 December 2021
Christmas Event
Registration from: 11:30am
Lunch: 12:30am
The Nottingham City Business Club's Christmas lunch was a well attended and raucous event as befits the season.
Club President Nigel Rowlson opened the proceedings with a hearty welcome to the 70 members and guests who attended as Covid news had threatened to cancel the event during the previous week.
Event Roundup
This was our fourth 'in person' event after the horrors of lockdown started as it meant to go on with pre-lunch drinks in the Chino Latino bar whilst 'Just Ben' supplied the music and Roy Bond, the close magic.
We were delighted to be joined by some special guests:-
A video appearance from Ash Botes from the charity - Harmless. Ash thanked the club for the money raised for their charity in the past year
Jo Jepson introduced Base 51 which is our new charity for 2022
Sheridan Chilvers gave us an overview of the Nottingham Roosevelt Scholarship Trust
Frank Ciaurro was awarded the coveted NCBC golf day trophy for his winning team
As expected, the start of lunch overan as there was so much chat and networking going on in the room, but a lovely Pate with salad eventually made it to the tables. A game of heads and tails soon followed with the winner picking up a bottle of Gin as a prize.
We then heard the first of two talks from Nottingham's most famous son - Robin Hood. History and folklore intertwined in some fascinating stories of Nottingham through the ages.
A traditional roast Turkey lunch was then served followed by Christmas pudding and coffee with mints.
Robin then regaled us with stories relating more to the character of his namesake, where the myths and legends originated from and the fact that he is absolutely a Nottinghamshire man!
Our raffle was called with some great prizes on offer as was the winning team for our Christmas quiz.
Robin Hood then led a lively bidding war for our star auction prize of a week's use of a holiday villa in Spain!
All of this fund raising activity meant that we were delighted to be able to donate the impressive figure of  £1773.00 to Base 51 - our new charity this coming year.
Nigel wrapped up the day at somewhere near 4pm with reminders of our first two lunch events in 2022 and a series of thank yous to the council, the Park Plaza hotel and the guests.
It's rumoured that a large contingent then retired to the Castle pub to carry the day on - but this can't be confirmed!
NCBC Event Details
Christmas Event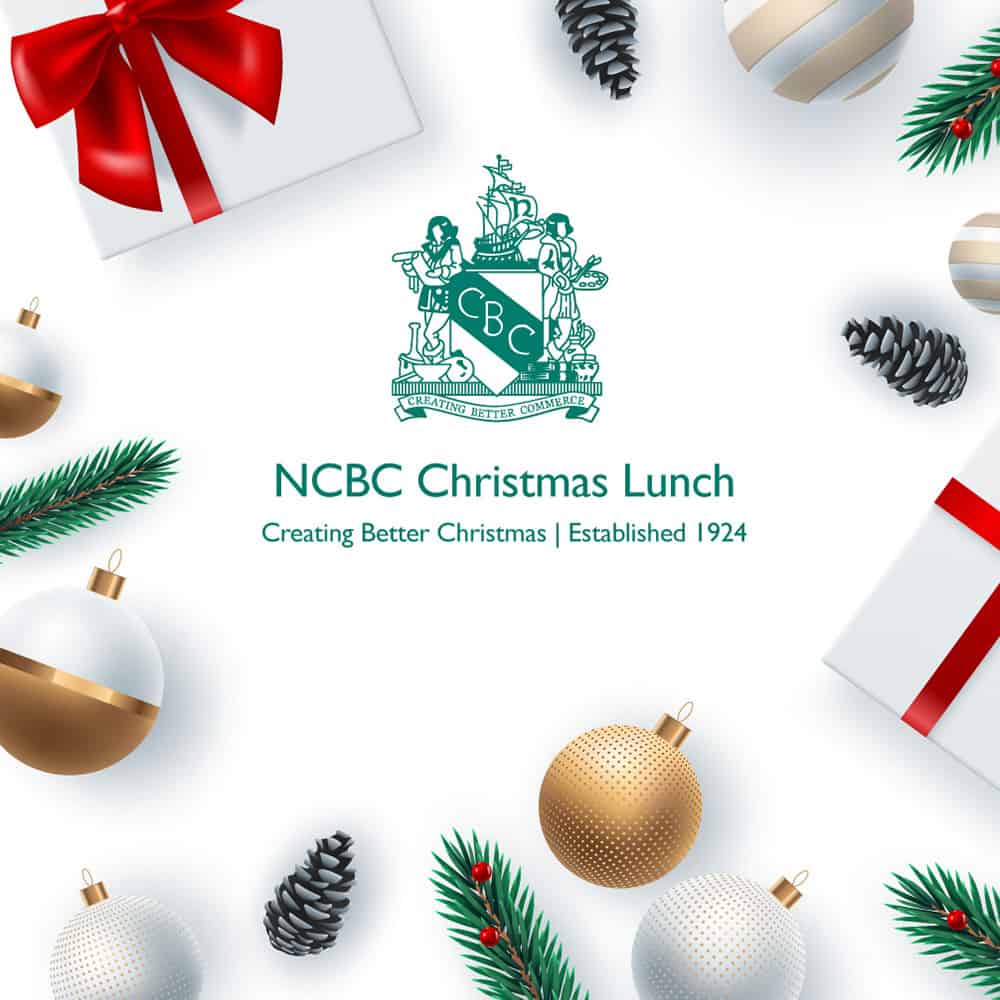 On the 10th of December, Nottingham City Business Club's legendary Christmas Lunch was hosted by our special guest speaker Robin Hood aka Ezekial Bone, who brings us The Ironies & Mysteries of Nottingham History!
Ade Andrews is the Man Beneath the Hood.
The self-proclaimed #OfficialOutlaw, for nearly 30 years Ade has been bringing Nottingham's famous son to life for the benefit of the City and the County, and is leading the way with the interpretation of the character in the C21st.
That's not all...
For your added entertainment we have close-up magic with Roy Bond Magician described by Paul Stone, Las Vegas show producer, as an Elite Performer and music from local talent Just Ben.
With so much going on to enjoy this is one lunch you are definitely going to want to be at!
The Timetable
What to expect at NCBC
Meet potential business contacts
As a member you'll be invited to a monthly lunch-time event on the third Friday of each month (excluding August) to meet with other members and hear from our guest speaker.
Business opportunities
There are various opportunities to promote your business through word of mouth, our social media channels and also sponsorship.
Additional events
We organise additional events throughout the year giving our members additional opportunities to meet and learn more about what's happening in Nottingham.
Bookings are closed for this event
Have a look at the other events we have coming up. Click the button below.