Leaders of industry for the future.
Welcome to Nottingham City Business Club, the forward-thinking, modern business club with the heritage of being the oldest business club in the UK outside of London.
Up Next
Phil Tufnell
Sport, TV & radio personality
8th December 2023
Venue: Motorpoint Arena, Nottingham
About us
About Nottingham City Business Club
Established in 1924 means that we may be old, but we're also a forward-thinking and modern business club that brings together Nottingham's business community every month to meet, network and to hear from some of the region's top people.
Lunch-time meetings.
Our lunch-time meetings are friendly and welcoming and are held on the third Friday of each month (excluding August). We also organise a variety of additional networking events throughout the year for our members to meet and learn more about what's happening in Nottingham.
Membership.
Nottingham City Business Club is a membership organisation whose members are passionate about Nottingham and doing business here. New members are always welcome, and we ask anyone interested in joining our organisation to first join us for lunch as our guest. This will give you the opportunity to experience first-hand what we have to offer.
To join us as a guest, please fill in the form below and a member of our team will be in touch.
Why not come try us out?
Book your first event today
Creating Commerce for the City of Nottingham
Benefits of membership

Meet potential business contacts

As a member you'll be invited to a monthly lunch-time event on the third Friday of each month (excluding August) to meet with other members and hear from our guest speaker.

Benefits of membership

Meet the members of NCBC

Being part of a community of like-minded business owners, you'll have the opportunity to meet people and build relationships.

Benefits of membership

Business opportunities

There are various opportunities to promote your business through word of mouth, our social media channels and also sponsorship.

Benefits of membership

Additional events

We organise additional events throughout the year giving our members additional opportunities to meet and learn more about what's happening in Nottingham.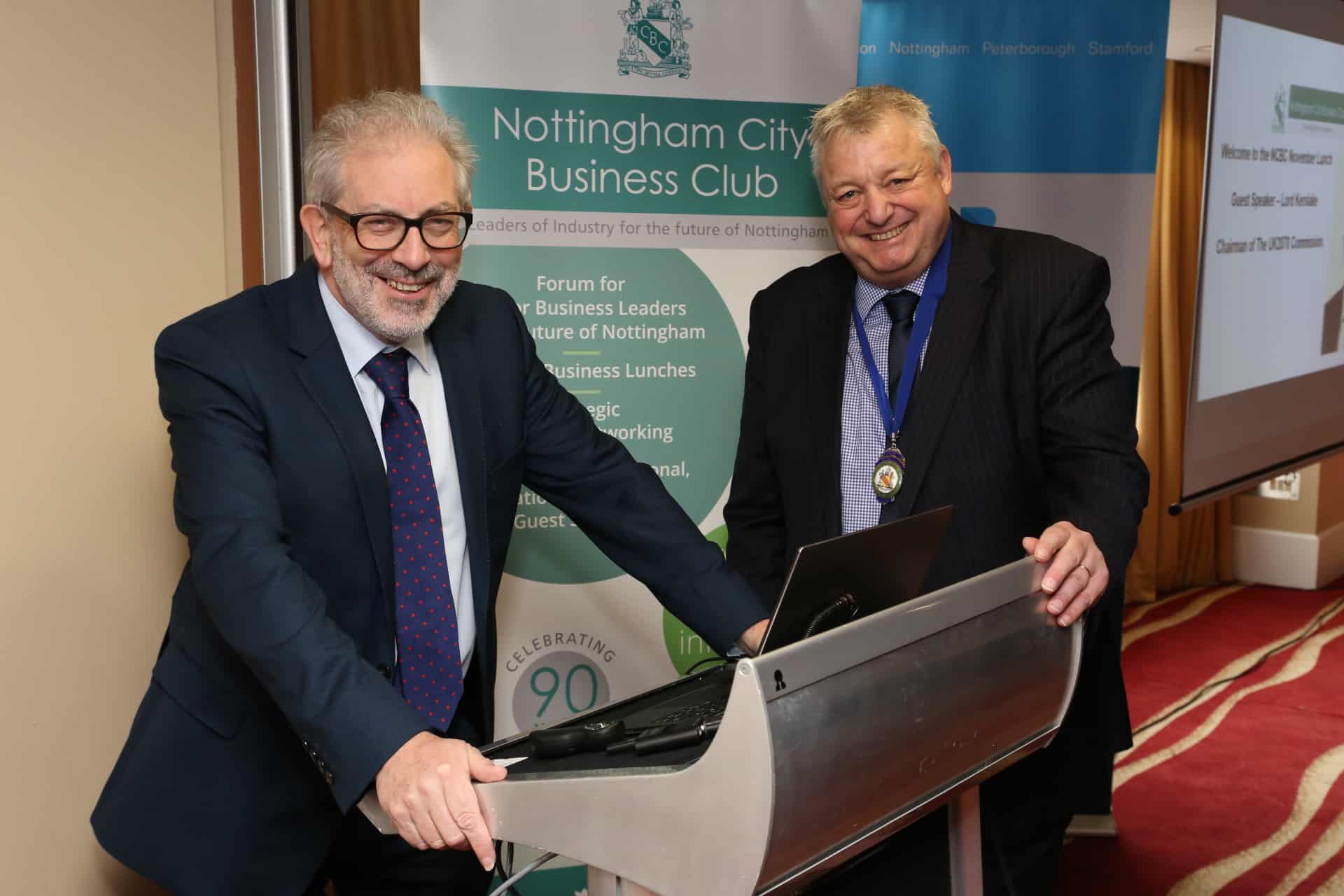 Our Aims
Our aims for the Business Club
To provide a friendly and welcoming lunch-time educational forum with fellow business leaders.
Networking with business contacts.
The aim of the Nottingham City Business Club is to provide a forum for senior business people who are interested in meeting potential business contacts.
Influential views.
Hearing the views of influential members of government, and the business sector in a social environment.
Testimonials
Views from members
I have been a member since 2004 and have made some great contacts and friends. I have given and received advice and tips and what better way to spend a Friday once a month. Key relationships developed in the pub afterwards too which is always a bonus!

Pedigree Automotive Solutions

Nottingham city business club, is a great monthly event that provides an excellent networking opportunity for businesses in the city. It has great speakers, great attendees, and great food as a bonus.

NG1 Cleaning

NCBC is the place to be for business networking and finding out what's going on in Nottingham. A great venue, excellent speakers and a very friendly environment. Highly recommended!

Pembridge Gray

I personally think the combo of drinks to begin, then a sit down meal followed by a trip to the pub with other business owners is the best way to not only network, but build lasting relationships with other like minded directors. For people after the usual business card shuffle, this probably isn't for them, but for me its an event I look forward to each and every month.

Strafe Creative
Motorpoint Arena Nottingham
Bolero Square
Nottingham
NG1 1LA
Blog & news
We've always got something to say
Twitter feed is not available at the moment.
Why not come try us out?
Book your first event today
Creating Commerce for the City of Nottingham