17 March 2023
Martin Ingham
Chief Executive Motorpoint Arena Nottingham & National Ice Centre
Registration from: 11:45am
Lunch: 12:30pm
In March, a lively crowd of NCBC members and guests were treated to hospitality at Motorpoint Arena Nottingham's Spotlight Bar.
Event Roundup
As one of the city's greatest success stories, we were honoured to hear from Chief Executive, Martin Ingham, about the venue's rise from its 1939 origins as Nottingham Ice Stadium to the £150m Arena and Ice Centre that stands on the same site today.
The original ice stadium was home to the Nottingham Panthers ice hockey team, and youngsters ice skating on weekends. World-renowned skaters, Jane Torvill and Christopher Dean, spent most of their youth training at the ice stadium before heading off to the Sarajevo Winter Olympics in 1984, where they made history winning gold. This success put Nottingham's ice sports on the map and led to the centre's main shareholder, Nottingham City Council's, successful £22m Lottery Sports Grant and Government funding to replace the tired stadium with a new world-class National Ice Centre and Arena.
As the venue builds up to its 25th anniversary, Martin took us through some of its highlights:
Home to the Ice Academy, learning to skate schools, fun skating sessions, ice sports, community groups, GB speed skating and even skaters in their late 80's, the new National Ice Centre created a pathway for future Olympians. When the National Ice Centre opened, it took £2.1m in its first year (2000/2001). This year, as business gets back to record highs following the pandemic, it took £30m.
The Arena team really "sweats the asset", offering global stars a stage, corporate events space, sports and entertainment. In March alone, the Arena hosted 6,500 people at the Premier Darts League one night and more than 9,000 people the next night listening to singer Tom Grennan. Guests at the NCBC lunch were treated to a private tour of the Arena with Martin Ingham and saw the work that goes into setting up for an event for themselves.
The commercial freedom awarded to Arena means that it has been able to provide its own catering in-house and now boasts a turnover of more than £4.5m from catering and a variety of outlets around the concourse.
Per annum: 50,000 ice sports spectators, 500,000 Arena visitors, 160 permanent employees, 1,200 casual jobs provided.
Contribution of £40+m GVA to the local and regional economy.
The pandemic saw the venue close for 18 months, but now it's back on top! Quarter 2 of 2022 was a record. It's the 33rd busiest arena in the world and provides merchandise through National Merchandise to 21 venues, including the London Palladium, rising to 31 this year, 40 festivals and 60 stadiums.
We can't wait to see what's next? Watch this space as exciting 25th anniversary celebrations are revealed
NCBC Event Details
Martin Ingham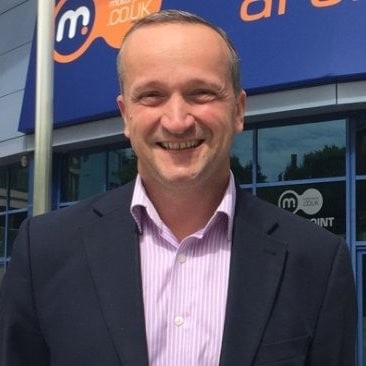 Martin Ingham was appointed Chief Executive at the National Ice Centre and Motorpoint Arena Nottingham in 2017. He has worked tirelessly for the venue in senior management since 2002, helping to put it into the 'Top 50 Arenas' in the world for entertainment.
He was instrumental in setting up the venue's successful National Merchandise concession that operates in various UK venues, including six Arenas and a number of festivals.
The Timetable
What to expect at NCBC
Meet potential business contacts
As a member you'll be invited to a monthly lunch-time event on the third Friday of each month (excluding August) to meet with other members and hear from our guest speaker.
Business opportunities
There are various opportunities to promote your business through word of mouth, our social media channels and also sponsorship.
Additional events
We organise additional events throughout the year giving our members additional opportunities to meet and learn more about what's happening in Nottingham.
Bookings are closed for this event
Have a look at the other events we have coming up. Click the button below.