17 Sep 2021
Panel of Speakers
MemSaab, De Vere, Nottingham BID, SA
Registration from: 11:30am
Lunch: 12:30pm
Nottingham City Business Club's September event was a great success. A fantastic afternoon with a very interesting and thought-provoking talk from our panel of speakers. The afternoon was topped off by a wonderful 2-course lunch and a trip to the Castle Pub.
A great time was had by all and it was great to see members of Nottingham City Business Club all together after 18 long months of no face-to-face meetings.
NCBC Event Details
Panel of Speakers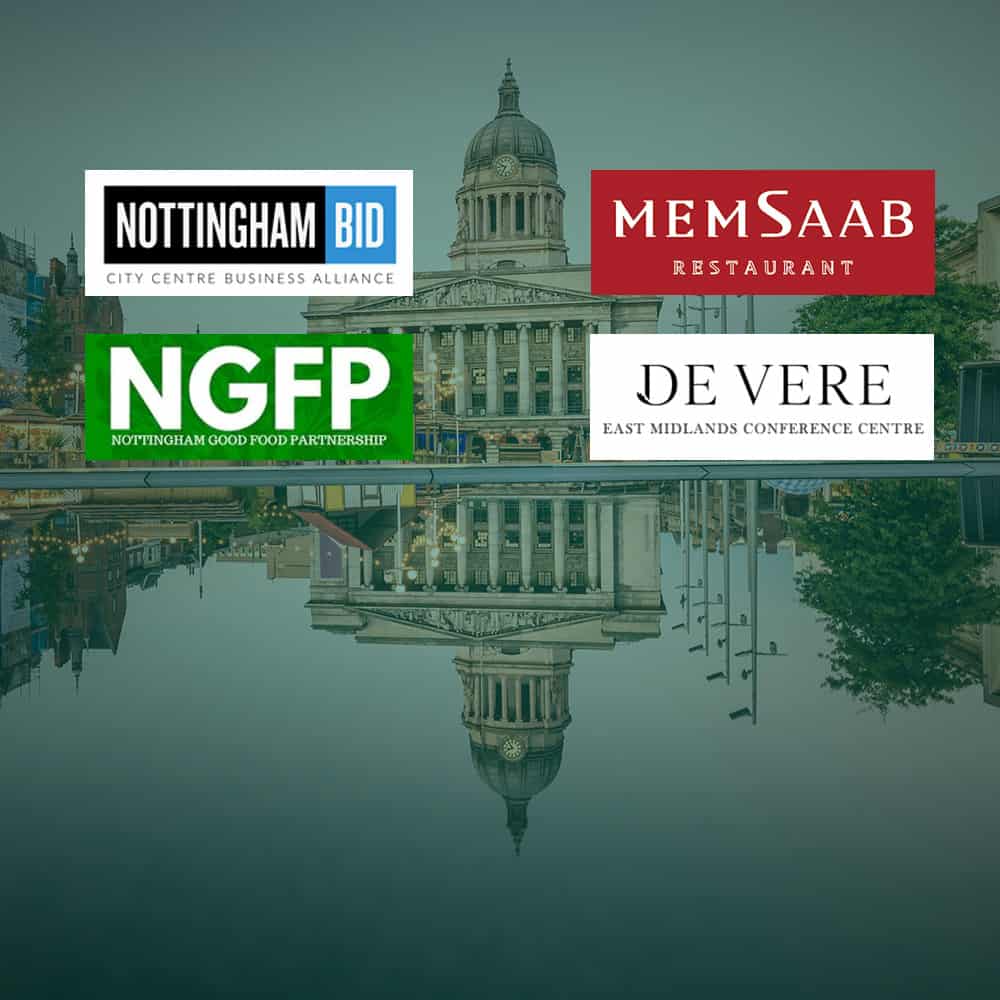 After 18 months of disruption and heartache with Covid 19, we want to welcome folks back and celebrate all that is good about Nottingham and look at the way forward for business in our city and county.
We're bringing you an impressive line-up with not one, but a panel of four guest speakers.
Tom Waldron Lynch
East Midlands Conference Centre and Orchard Hotel
Tom has worked and lived around Nottingham for almost 25 years. He believes Nottingham remains a hidden gem that is yet to reach its potential as a premier UK destination. Originally from the midlands in Ireland. He trained in Hotel Management in Ireland, Switzerland and the UK. He now manages East Midlands Conference Centre and The Orchard Hotel located on University Park on behalf of Nottingham University. He is a declining middle distance runner with a passion for food hence the need for the running.
Lucy Stanford
Nottingham BID
As Director of Operations, Lucy is responsible for overseeing the running of Nottingham BID, including the operational stream of delivery and effective partnership working to achieve the BID's strategic 2021-25 vision for the city, having received the overwhelming backing of businesses in Nottingham for the new five year term - which saw 92% of businesses vote in favour and 89% by rateable value.
She recently led on the city's reopening strategy after COVID-19 and believes cooperation is key to successful place management and is passionate about working with partners and stakeholders to maximise the potential of Nottingham.
During her time at Nottingham BID Lucy has been responsible for the successful launch of several new projects to help attract visitors to Nottingham city centre, including the Nottingham Ale Trails.
Amita Sawhney
MemSaab restaurant
Amita Sawhney, owner of MemSaab, is a well-known figure within the Nottingham business community and if you've ever dined at MemSaab you will have found her always her on-hand to recommend dishes along with her excellent team all providing for an excellent dining experience.
During the pandemic, MemSaab launched a new free delivery service for customers who didn't want to venture out meaning curry lovers didn't have to miss out on great award-winning food! Always wanting to support the local community people in quarantine could be accommodated with food left on their doorstep.
Amita is well placed to understand the impact of the pandemic on local hospitality and dining in particular and the wider impact to the local economy and employment and what is needed for both recovery and the longer term.
Penney Poyzer
Nottingham Good Food Partnership
Nottingham Good Food Partnership is working to immerse the built environment in an edible urban landscape.
Food is everybody's business. We're working collectively to create a food landscape fit for purpose that meets the needs of the future generation.
NGFP acts as a voice for the citizens of Nottingham, bridging the gap between communities and experts to create protective new policies which safeguard food growing and community-centric spaces through 6 Key Issues.
The Timetable
What to expect at NCBC
Meet potential business contacts
As a member you'll be invited to a monthly lunch-time event on the third Friday of each month (excluding August) to meet with other members and hear from our guest speaker.
Business opportunities
There are various opportunities to promote your business through word of mouth, our social media channels and also sponsorship.
Additional events
We organise additional events throughout the year giving our members additional opportunities to meet and learn more about what's happening in Nottingham.
Bookings are closed for this event
Have a look at the other events we have coming up. Click the button below.