21 July 2023
Stephanie Sirr
Chief Executive, Nottingham Playhouse
Registration from: 11:45am
Lunch: 12:30pm
In July, NCBC was lucky to host not one, but three guest speakers, courtesy of Nottingham Playhouse.
Event Roundup
Amanda Farr, Chair of the Board of Trustees, gave a brief history of the award-winning production house, which celebrates its 60th year in its current location this year. The theatre is more unusual than traditional theatres that hire out their stage for production. The Playhouse makes and produces its own work and is reviewed nationally, not just locally. It really puts Nottingham on the map and is an important part of our local economy.
Nottingham Playhouse is supported by Lottery funding, Arts Council England, and Nottingham City Council, as well as being a registered charity that participates with the local community through more than 60 programmes.
Head of Participation, Martin Berry, gave us an insight into some of these. He said, "We leave no one alone. All abilities, all ages, we come to you." The theatre's wide-reaching participation programmes are helping to create life-changing experiences for our local communities, from classes and courses to workshops. Programmes include, children and young people, careers and training, adults and community, older people, schools, colleges and universities and its latest initiative, its own Business Club, offering events, space hire and more.
Joanne Sigsworth, Director of Marketing Communications, talked us through what Nottingham Playhouse means for our great city. She said its, "Creating wonder in Nottingham." This has involved creating a business model that "makes the theatre work." This is achieved, Joanna noted, by investing in emerging artists, investing in training, maintaining a strong staff team, delivering on equality, diversity, and inclusion, and generating 30% of its income from grants and subsidies. The rest comes from a combination of ticket sales, tours, space hire, presented programmes of work - drama, comedy, music, and dance - sponsorship, patrons, donors, bars, and sweets.
Find out more here.
NCBC Event Details
Stephanie Sirr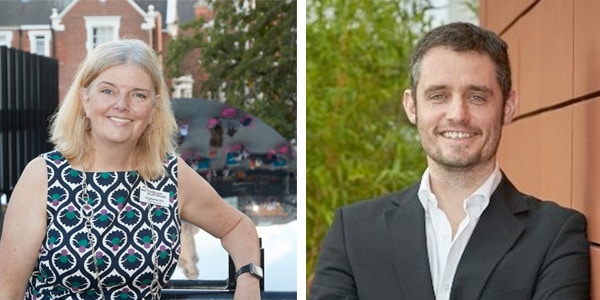 The present Nottingham Playhouse opened 60 years ago this year and it has become a space where everyone can feel they belong and where diverse stories that reflect our city are told through bold, thrilling and proudly 'Made in Nottingham' theatre.
Stephanie Sirr
Stephanie Sirr MBE has been CEO of Nottingham Playhouse since 2001 and is currently joint President of UK Theatre, the industry body for theatre. She has been CEO of Blackpool Grand Theatre and the Merlin Theatre, Frome and also programmed theatres including Sadler's Wells and Hackney Empire. She is a founder member of Dance Touring Partnership, ex Vice Chair of Parents and Carers in Performing Arts (PiPA) and the cultural representative on the One Nottingham Board. She is currently Chair of Nottingham Strategic Cultural Partnership and Nottingham Cultural EDI Steering Group. She is a former actress, comedy club compere, stage manager, director and writer and was once Press Agent for Eartha Kitt.
Martin Berry
Martin Berry is Director of Participation at Nottingham Playhouse and until 2022 sat on the Board of Stage Directors UK, a body supporting the rights of theatre directors. He has directed 48 shows for stage and radio, including productions for The Globe, Greenwich Theatre, Queens Theatre and Nottingham Playhouse. His work also includes being Midlands representative for the JMK Trust, assistant to Lyndsey Turner at the National Theatre, international consultant for Trinity College London and creating theatre productions in China, Malaysia and the US.
The Timetable
What to expect at NCBC
Meet potential business contacts
As a member you'll be invited to a monthly lunch-time event on the third Friday of each month (excluding August) to meet with other members and hear from our guest speaker.
Business opportunities
There are various opportunities to promote your business through word of mouth, our social media channels and also sponsorship.
Additional events
We organise additional events throughout the year giving our members additional opportunities to meet and learn more about what's happening in Nottingham.
Bookings are closed for this event
Have a look at the other events we have coming up. Click the button below.