21 May 2021
Christopher Ware
The Conygar Investment Company PLC
Registration from: 1:00pm
Lunch: 12:30pm
Nottingham City Business Club had a  great turnout for this event which followed our 2021 AGM at which Nigel Rowlson was voted in as our new President for the coming year.
Nigel then hosted his first event as we welcomed Christopher Ware, Director at Conygar Investment Company PLC.
Event Roundup
Conygar is the organisation behind the development of what locals might know as the Boots Island site - now rebranded as The Island Quarter. The 40-acre site has lain barren for nearly 30 years and has a chequered history in terms of ownership and plans to develop it.
The presentation was more of an update as Chris had previously spoken at one of our lunchtime events over two years ago before planning permission had been granted at the site. Now, construction is moving forward at a pace and there was lots of current information to hear about.
The most important fact to understand is that a site such as this at the centre of a young, vibrant and dynamic city is a rare thing in Europe. Most inner cities are already developed, so to have a blank canvas and bring forwards a mix use scheme is an exciting project for the developers as well as us Nottingham folk.
The company is working closely with Nottingham City Council to ensure the development delivers on its promise to preserve the unique heritage of the site, and re-imagine it as a new quarter for hotels, offices, living, restaurants, bars and cultural events, all linked by acres of public access green space.
Christopher picked up on the amount of new Biotech and Fintech companies in the city and pointed out that we are responsible for a high amount of new patent applications - only just running behind bigger and more academic cities such as Manchester and Oxford. Clearly, there is a lot going on within our home patch which was good to hear.
Student accommodation will be a part of the scheme but so will housing for different generations as well as offices, co-working flexible space, a hotel and short-term apartment building and a variety of bars and restaurants. All of these will be within easy walking distance of a central plaza and bandstand designed for public events.
Green space and sustainability are important factors which the audience picked up on and asked questions about at the end of the talk. Christopher explained that there will be a high ratio of green space as well as food growing opportunities and shared space for gardening.
The CGI's and plans that were presented look great and are a testament to the variety of local architectural, design and landscape companies that Conygar are working with on the project.
Our thanks go to Christopher and his team at Conygar. We look forward to seeing the first stage of the site complete a year from now.
NCBC Event Details
Christopher Ware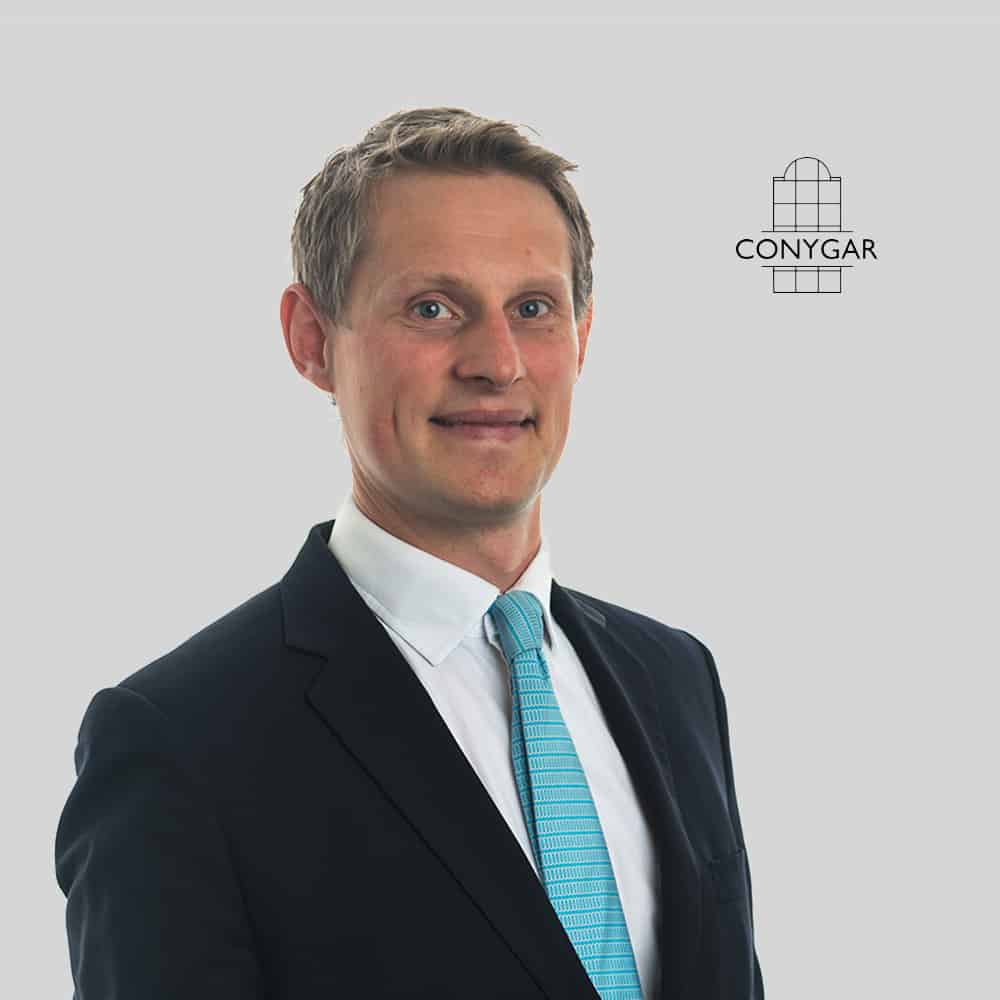 Christopher Ware is a director at The Conygar Investment Company PLC. Christopher has been instrumental in advancing The Island Quarter site in Nottingham and the granting of planning permission. Other projects he has been involved in include the assembly, management and subsequent sale of a mixed-use portfolio of several hundred million pounds. Christopher has an undergraduate degree from the University of Exeter, a masters in finance from London Business School and is a CFA charterholder.
The Timetable
What to expect at NCBC
Meet potential business contacts
As a member you'll be invited to a monthly lunch-time event on the third Friday of each month (excluding August) to meet with other members and hear from our guest speaker.
Business opportunities
There are various opportunities to promote your business through word of mouth, our social media channels and also sponsorship.
Additional events
We organise additional events throughout the year giving our members additional opportunities to meet and learn more about what's happening in Nottingham.
Bookings are closed for this event
Have a look at the other events we have coming up. Click the button below.